An education trust running a leading secondary school largely shut due to the reinforced concrete crisis wants teachers to be able to assess pupils' GCSE and students' A-level grades – as happened nationally during lockdown.
St Leonard's Catholic School in Durham, which has 1,400 youngsters, is regularly among the top-performing state schools at GCSE in the North East.
But reinforced autoclaved aerated concrete (Raac) has been found in buildings across the site, meaning children in most year groups have had to be taught online for four days a week since term started.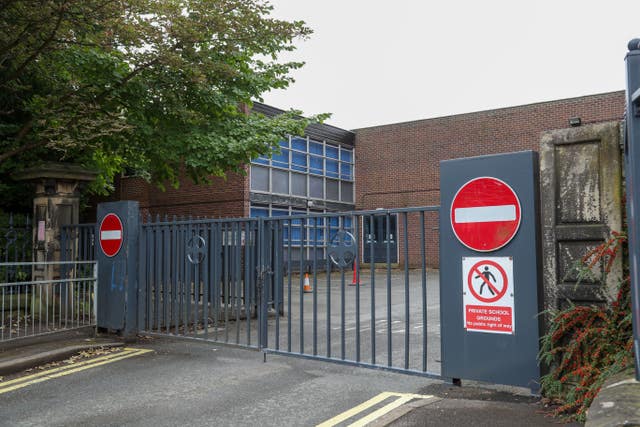 And when pupils have been called in to school for lessons, the limited safe accommodation has seen some taught in corridors and others with desks and clipboards to rest on.
Schools minister Baroness Barran will visit the site on Wednesday and parents will hold a peaceful demonstration outside in support of the school and its 150 staff, asking the Government to move St Leonard's up the Schools Rebuilding Programme list.
There are also concerns that pupils will be disadvantaged, through no fault of their own, in the end-of-year exams compared to other children whose education has not been disrupted.
The Bishop Wilkinson Catholic Education Trust, which runs St Leonard's, is seeing if it can use centre assessed grades (CAG) – as was allowed across the country during the pandemic, using pupils' and students' previous work to judge their abilities.
The trust has approached the Parliamentary Education Select Committee for assurances that, if they are allowed to use CAG "for the duration of this upheaval", that youngsters will not be disadvantaged when applying for university or jobs.
Meanwhile, a task force team made up of senior leaders, the trust, Department for Education and Durham County Council has been looking for safe alternative accommodation which could be used pending any rebuild.
They are currently assessing using Ushaw College, a 19th century site four miles west of Durham where priests were trained.
Students in year 13, the final A-level year, are being taken by bus to the trust's headquarters in Washington for lessons.
Pupils in years seven, 10 and 11 will have two days of face-to-face teaching this week, while those in years eight and nine are only in for one day, with remote lessons being used for the other days.
The school hopes to increase face-to-face lessons next week.
A trust spokesman said: "We completely understand the frustrations and disappointment of many parents of children at St Leonard's. Indeed, we share them.
"We need to get back to having all our school community benefit from our excellent team of staff, teaching face-to-face lessons as soon as practicably possible.
"Parents have been supportive of the fact that this decision was outside of the trust and school control, and we appreciate that.
"We are keeping parents updated on our plans on a weekly basis.
"The co-ordination of planning the weekly timetable in the limited space we have is time-consuming and relentless for our staff.
"Thankfully, we have more on-site classrooms being deemed as safe by our surveyors in a staggered release.
"This will help extend our face-to-face provision to some degree."