Some school support staff in Scotland are having to take second jobs to make ends meet, a pupil support assistant has claimed.
School support staff in 24 council areas are walking out for three days from Tuesday after Unison rejected the latest pay offer, though GMB Scotland and Unite have suspended strikes while they consider it.
The dispute is over a revised pay offer from council umbrella body the Convention of Scottish Local Authorities (Cosla) for a pay increase for janitors, cleaners, and support workers, who are some of the lowest-paid council employees.
The new offer represents a minimum wage increase of £2,006 for those on the Scottish Government's living wage and a minimum increase of £1,929 for workers who are earning above the living wage.
The living wage of £10.85 will rise to £11.89 under the new offer, equivalent to a 9.6% increase – but Unison has said the revised pay offer remains a "real terms pay cut" and "below the rate of inflation".
At Portobello High School in Edinburgh, around 30 school support staff stood on the picket lines with placards emblazoned with slogans such as "pay up for council staff", "no pay, no play" and "we are worth more".
Other staff members at the school arrived to hand out hot drinks to the strikers.
Pupil support assistant and Unison member Katherine Bull told the PA news agency that she would not have voted for the pay offer had it been put to them by the union and that some of her colleagues were having to take on second jobs to make ends meet.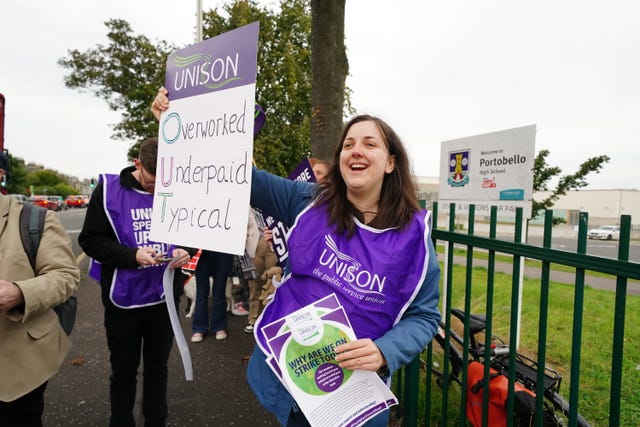 She said: "I don't think we would have (accepted the offer).
"When we heard about the offer from our union, they recommended we reject.
"They don't think it goes far enough, it's baby steps when we need to be taking giant leaps.
"Until the offer is what we consider to be fair, we are going to be out here striking like we planned to."
Ms Bull said she "absolutely loved" her job, and that she loved working with her pupils, describing them as "absolute stars".
She added: "But it's a difficult job and so to be paid what we are, some of us are having to take on second jobs to make ends meet.
"You are worried about the financial burden that you have from your daily life and the fact that the bills aren't quite adding up.
"You want to be there to support those pupils, but when you are coming in worried about these kinds of things, it's really hard to leave it at the door.
"It is a job where you have to leave your own personal baggage at the door because the pupils are coming in and you want to be open and caring but it's trying to balance that, and that's become harder, especially in the last year.
"It is a tricky job but it's one of the most rewarding and most important I think."
Ms Bull said she "hoped" an improved offer would be forthcoming.
She added: "I hope there is a better offer and until there is we are going to be out here fighting for our value and fighting for our jobs."
A spokesperson for Cosla said: "This is a very strong offer that equates to 10% or £2,006 for the lowest paid at the request of the trade unions.
"Throughout these negotiations we have met every request of our trade union colleagues."
Commenting on the pay offer, Cosla resources spokeswoman Katie Hagmann told BBC Radio Scotland: "The remaining funding envelope has been found through reprofiling and reprioritisation of existing funding."
She clarified it would come from areas where there were "underspends", meaning there would be "no detriment" to jobs or services.